Property developers Michael and John Taggart part with legal team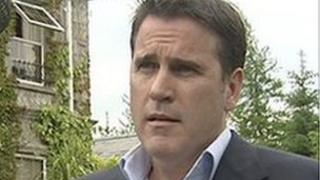 Lawyers representing former housing developers Michael and John Taggart will no longer represent them in their multi-million pound legal battle with the Ulster Bank, it has emerged.
The brothers are suing the bank for alleged negligence and improper conduct they claim contributed to the collapse of the Taggart Group in 2008.
The case could face further delays following this latest development.
No explanation for the move was given at the High Court in Belfast on Monday.
It means the brothers are currently representing themselves in the case.
Senior counsel for the bank told the court it wanted the action to go ahead as planned.
Property crash
The judge was told another law firm was interested in representing the brothers but would need more time.
Michael Taggart was in court for the latest hearing.
The firm was one of Northern Ireland's largest house-builders, with operations in England and the Republic of Ireland.
But it collapsed during the property crash in 2008, costing creditors hundreds of millions of pounds.
In a counter-claim, Ulster Bank has lodged writs for £5m and 4.3m euros (£3.6m) it claims the brothers owe in personal guarantees.
The case has already been forced to adjourn twice just before it was due to be heard.
Last September, it was put back after the Taggarts dismissed their previous legal team.