Zero-hours contracts: NI minister considers review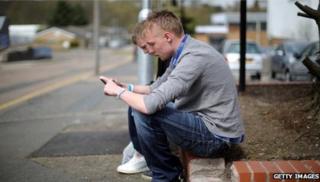 Measures to regulate zero-hours contracts are being considered by the Stormont employment minister.
Stephen Farry said he was responding to "considerable public concern" about the contracts, which allow employers to hire staff with no guarantee of work.
He said he would ask the executive about launching a public consultation.
It would look at exclusivity clauses and emphasise "measures to better inform individuals on zero-hours contracts of their existing rights".
'Potential for abuse'
"It's important to bear in mind that the world of work is evolving considerably, and that includes the manner in which people are employed and the structure of employment," Dr Farry told the assembly.
"It's important to recognise that in certain circumstances, zero-hours contracts may be an attractive option either for businesses or indeed for certain categories of workers.
"We need to be cautious of a blanket approach that would rule out such employment models, particularly bearing in mind that people can move around the law and create new models to get around that.
"That said, there is considerable public concern and disquiet over zero-hours contracts, in particular the potential for abuse."
Zero-hours contracts mean employees only work as and when they are needed by employers, often at short notice, and are only paid for the hours they work.
Fluctuating demand
Some zero-hours contracts oblige workers to take the shifts they are offered, others do not.
Employers say it allows them to take on staff in response to fluctuating demand for their services, in sectors such as tourism and hospitality.
Unions have criticised the lack of certainty over earnings and employment rights, coupled with the potential disruption to family life caused by frequent short-notice calls to work.
Agency worker Andrew Kennedy, who has experience of working on zero hours contracts over the past year, said he felt "exploited" by the system.
"I felt like I was a pawn," the 26-year-old employee told BBC Radio Ulster's Talkback programme.
"It is a very raw subject. I never once turned down a shift, I worked every day that was going.
"There were times I even travelled in from where I live into the town, into the place where I worked, for them to say 'actually there are no shifts for you today'," he said.
Regular income
Mr Kennedy estimated that the number of times he was sent home after showing up for work had reached "double figures" over the course of the past year.
"I never complained, because I felt if I complained then they would end up saying 'well, he's not willing to work for us, so we'll not give him the hours'," he added.
He told the programme that the lack of a regular income was affecting every aspect of his day-to-day life.
Although he was given plenty of hours by his employers over the Christmas period, he had little if any work in January.
Mr Kennedy said he felt the minister's review would not go far enough to address the problems faced by workers in his position.