Antrim hospital death: Family told of 'fatal error' in care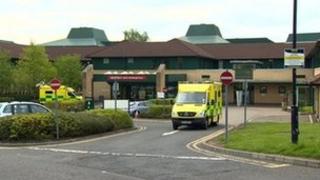 A County Antrim family whose father died unexpectedly in an NI hospital in 2008 has been told there was inadequate medical cover the night he died.
Relatives, who wish to remain anonymous, said they had learned of a "fatal error" in his care at Antrim Area Hospital.
Last week, it emerged that the Northern Health Trust is investigating 20 cases where care was below standard.
Eleven deaths - five of which were babies - are under investigation.
The County Antrim family are the third to come forward publicly since the statistics were revealed.
The family said that when their father died, they were told his death had been unavoidable.
However, several weeks later, when a family member began asking questions, it emerged there had instead been a "fatal error" in the management of his care.
Communication
The Northern Health Trust also admitted there had been a failure of communication and not enough staff on shift.
The family told the BBC that the facts surrounding their father's death had caused "tremendous pain and hurt".
Seven months after the funeral, they met trust representatives.
At that meeting, the trust admitted things had gone wrong but assured the family of plans to implement better systems for communication.
The man's daughter said there was nothing that would bring her father back and hearing other families had suffered in similar ways since 2008 was extremely upsetting.
Earlier, it emerged that the parents of a baby, who died in a Northern Trust hospital because there was no theatre for an emergency caesarean section, have still not received an apology.
Erin McAuley's death in May 2008 is another of the 20 cases being investigated.
Her father, Chris, said they did not want their daughter's death to be forgotten about.
"We want as parents, as human beings, to seek the truth of what really happened," he said.
"Procedures from investigations should be known. The truth is all we ever wanted about our daughter and we never got it until we went looking for it."
Mr McAuley told BBC Radio Ulster that his wife, Louise, went into labour in the Causeway Hospital in Coleraine, while they were waiting for an operating theatre.
"Louise eventually had to deliver while still waiting for theatre. She was in serious, serious pain. Subsequently, Erin got into great difficulty at birth and my wife was seriously injured as well," he said.
Neo-natal
"Erin was born in a very bad state. It was just unbelievable. The shock on the staff's face was easy to see and I knew it was going to be a very hard thing to come through."
The baby girl was rushed by ambulance to the neo-natal unit at Antrim Area Hospital, as her father followed behind in his car.
"I had to leave my wife in Coleraine and stay with our daughter. This was very tough to do as a husband and as a father.
"The drive from Coleraine to Antrim was one I will never forget. What was I going to do if I lost my daughter and wife, how I would cope? It was a bad place to be. I knew arriving at Antrim that the chances were slim of Erin coming out of this."
Erin's health deteriorated and her mother was brought to the hospital for her daughter's final hours.
Mr McAuley said: "Louise was never told why Erin was taken to Antrim, only that she was sick. The truth should have been transparent even at that stage."
In a statement on Wednesday, the trust said: "This case refers back to 2008 and was reported at the time as an serious adverse incident.
"An investigation was carried out and recommendations implemented. This included the establishment of a process for maternity emergency caesarean sections when the hospital theatre is in use for another emergency.
"The trust admits that its handling of this case fell short of the standard that Mr and Mrs McAuley should have expected in the care of their daughter. For this the trust is truly sorry and apologises unreservedly.
"The trust has been in contact with Mr and Mrs McAuley to arrange a meeting to discuss their case."
Last week, the health minister told the Northern Ireland Assembly that he had been made aware of 20 cases in which the trust's response was said to be below standard.
The patients had been seen in the emergency, obstetrics, gynaecology or X-ray departments.
It was not clear whether the deaths were avoidable. Health Minister Edwin Poots said the trust's response should have been better.