Theresa Villiers: Safe papal visit to NI 'entirely possible'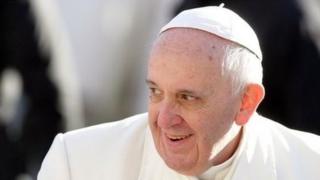 It should be "entirely possible" for Pope Francis to embark on a safe visit to Belfast, Northern Ireland Secretary Theresa Villiers has said.
Councillors in Belfast voted on Tuesday in favour of inviting the Pope to the city.
Ms Villiers gave her backing to the papal visit, saying it would be "a very positive step" for Northern Ireland.
She said she had every confidence that the security situation meant a papal visit to Northern Ireland was viable.
'Positive step'
"And I believe - it's obviously a matter for the Northern Ireland Executive whether such an invitation is extended - but I think it would a very positive step if the pope were to visit Northern Ireland."
Ms Villiers' comments came in response to a question from North Down MP Lady Hermon during Northern Ireland questions in the Commons.
Lady Hermon had asked: "You will be well aware that there has been some controversy within Belfast City Council about inviting Pope Francis to visit the city.
"Do you believe that, in fact, the security situation and indeed the political situation in Northern Ireland are conducive to a papal visit any time soon?"