PSNI chief constable job advertised by Policing Board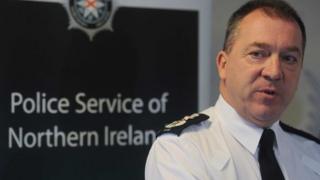 The process to appoint a new PSNI chief constable has begun after the post was advertised by the Policing Board.
In January, current Chief Constable Matt Baggott announced his decision to retire.
He took up the job as head of the Police Service of Northern Ireland in August 2009 and his contract ends in September 2014.
The closing date for applications to replace him is Friday 25 April.
The chair of the Policing Board, Anne Connolly, said: "This is a high profile role, policing in the most challenging operational environment in the United Kingdom and Ireland.
"We are looking for an individual with considerable operational experience and sound business skills, capable of delivering continuous improvement in the context of a reducing budget.
"The board's vision is to ensure the delivery of an effective, efficient, impartial, representative and accountable policing service which secures the confidence of the whole community.
"The successful applicant will have the leadership, professional and people skills to lead officers and staff in ensuring Northern Ireland becomes safer and stronger."