Fivemiletown Creamery: 50 jobs could go as creamery is sold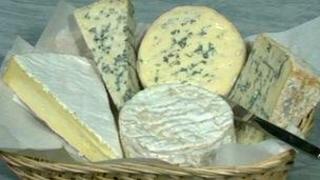 Fifty jobs at Fivemiletown Creamery in County Tyrone are likely to be lost after shareholders decided to sell it to a company from the Republic of Ireland.
After negotiations that ran into the early hours of Friday, Glanbia Ingredients Ireland agreed to buy the milk supply and Fivemiletown cheeses.
This effectively ends processing in the town.
Staff were called to a meeting at the factory at midday on Friday.
It was confirmed they will now begin a 30-day consultation period with the owners to discuss redundancy terms, after which the factory will almost certainly close.
Sean Smyth, who has worked at the creamery for four years, said: "There's a lot of angry employees here.
"Fifty workers here, 50 families are losing their jobs now very shortly - it's not a great atmosphere round Fivemiletown.
Inevitable
"Fivemiletown's been going over 100 years, producing top quality cheese - we may be a small factory but we've got a big heart and we were willing to listen to the farmers to help them out in this difficult time but at the end of the day we didn't get the opportunity to do it."
Enterprise Minister Arlene Foster said the news was "hugely disappointing".
She said: "I have requested a meeting with the Glanbia management to see what their plans exactly are, and to talk to them, not only about the employees, which of course is premium at the moment, but to also talk about the brand because Fivemiletown is a strong brand."
The sale has been inevitable for a long time because of a period of losses.
In their statement, the board of directors said they regretted the likely closure of the plant and the resulting loss of jobs.
While Fivemiletown's Ballyblue and Ballybrie cheese brands were popular, they only took a small proportion of the milk.
It is understood the factory has been making losses for the past two years.
The 50 jobs are at the independent specialist cheese-making factory.
A number of staff held a protest outside a local hotel as shareholders met bidders on Thursday.
The Ballylurgan Road premises were put up for sale following a downturn caused by the loss of a major contract and difficulties in acquiring milk.
The factory has been running since 1898. Its closure brings to an end an era of milk processing in the Clogher Valley.
The creamery in Augher closed last year.