Belfast city bus satisfaction 'at lowest since 2008'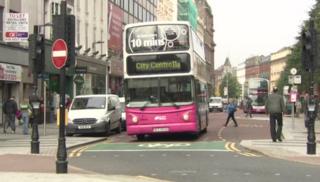 Translink must improve on its record for punctuality, the Consumer Council has said.
The latest figures for Autumn 2013 show that Metro and Ulsterbus fell short of punctuality targets.
Results show 82% of Metro services arrived on time - the target was 95%. Ulsterbus had 92% punctuality, which is below the charter target of 95%.
The council said customer satisfaction with Belfast's bus service was at its lowest since 2008.
Aodhan O'Donnell from the consumer council said figures were "a cause for concern".
"Punctuality is a key issue for consumers," Mr O'Donnell said.
"Passengers need to have confidence that they will arrive on time at their destination and these results will not help instil consumer confidence in bus services. Translink must ensure the action taken to address the punctuality of bus services is having an immediate and positive effect."
Ciarán Rogan, marketing executive of Translink, said: "The performance of local rail services was excellent but the punctuality of bus services in Belfast concerns us.
"All roads users in Belfast will know that congestion is increasingly an issue. The bus lanes in the city centre are working very well and we will work with our colleagues in Transport NI to improve the 'on time' performance of bus services outside the city centre.
"We have taken action to keep services running on time - we have added more buses to our schedules to ensure we are delivering our timetable reliably for customers. We are also planning to introduce more new buses to the Metro fleet along with a new timetable on key routes later this year".