Killultagh Estates returns to profit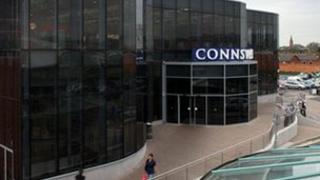 One of Northern Ireland's largest property firms has returned to pre-tax profit after suffering years of heavy losses in the crash.
Killultagh Estates, which is controlled by Frank Boyd, owns the Connswater shopping centre in Belfast and other shopping centres in the UK and Ireland.
In the year ending March 2013 the firm had a profit of £1.9m compared to total losses of £1.8m in 2012.
However, the firm's liabilities still outweigh its assets by £78m.
Group turnover, which is essentially rental income from properties, rose slightly to just over £13m.
A note in the accounts states that "the director is pleased with the rental returns achieved".
The company did not make any further write-downs in the value of its properties.
The firm has previously said that some of its loans had been moved into the Irish government's National Asset Management Agency (Nama).
The group also has loans from Ulster Bank, which is not part of the Nama process.
Among Killultagh's other properties are the Bowen Square shopping centre in Northamptonshire, the Pavilion shopping centre in Hertfordshire, the White Rose centre in Rhyl and the Bridgewater shopping centre in County Wicklow.