Welfare reforms: Conflicting estimates may be assessed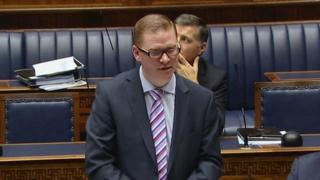 The executive is considering appointing someone to examine the conflicting estimates of the impact of welfare reforms on Northern Ireland.
DUP politicians have produced a series of figures regarding the potential costs of not implementing the welfare changes being introduced in England.
However, Sinn Féin, who oppose the reforms, has said implementing them would cost hundreds of millions.
Ministers discussed bringing in someone independent to assess the issue.
Finance Minister Simon Hamilton, of the DUP, has forecast that the failure to implement welfare reform could cost Northern Ireland as much as £1bn.
He said he had received a letter from Danny Alexander, the chief secretary to the Treasury, saying that £100m was being taken out of the Northern Ireland budget this year.
His party colleague, Health Minister Edwin Poots, has warned that patient care could be compromised if his budget is cut by a projected £68m next year.
However, Sinn Féin has disputed many of these figures and pointed to the negative impact on spending power within the Northern Ireland economy of a reduction in benefit payments and increased levels of poverty.
At an executive meeting on Monday, ministers discussed the possibility of an independent person examining the conflicting estimates.
It is not clear whether ministers might consider an outside economist for the role or an official from within the civil service.
Westminster passed the controversial welfare reforms in February 2013.
The Northern Ireland Executive has negotiated some amendments, but has still not passed the bill.