Health care: Emergency summit called in Belfast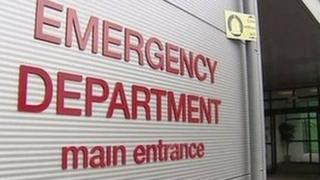 Some of Northern Ireland's most senior medical professionals are meeting in Belfast in what is being called an emergency health care summit.
Designed to tackle the ongoing crisis facing emergency departments and staff, it is the first time such an event has been held in Northern Ireland.
The summit will bring together some of the most senior representatives of hospital medicine.
It will include consultants, managers, GPs, nurses, and union representatives.
Emphasis
The idea behind the event is to address the problems in emergency departments head-on and discuss potential solutions.
Health Minister Edwin Poots is due to address the meeting.
It is expected that alternative models of care will be discussed with emphasis placed on changes being made to the entire health system and not just emergency departments.
There are many common threads across the UK, including an ageing population and a shortage of emergency doctors.
The summit will be sensitive as many contentious issues are discussed.
However, the media will not be present as it is College of Emergency Medicine policy to hold the event behind closed doors.