Carrickfergus: Motorists warned over 'disturbances'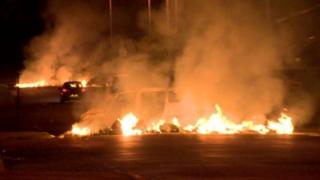 Police warned motorists to avoid part of Carrickfergus, County Antrim, on Thursday evening.
They had received reports of trouble in the Woodburn Avenue and the Hollies areas of the town.
A car was burnt out at Sunnylands in the Woodburn estate and rubbish was set alight on Woodburn Avenue.
David Hilditch, a Democratic Unionist Party MLA for East Antrim, told the BBC a car had been hijacked and bins were set on fire, blocking the street.
He said small groups of youths had gathered in the area but added that the situation appeared "calm"
Mr Hilditch said he had received his first call regarding trouble in the estate at about 21:00 BST.
'Violence'
Alliance MLA for East Antrim, Stewart Dickson, condemned those responsible for the disturbances.
"There is no place for violence on our streets. The people responsible are attempting to intimidate the local community, but they will not succeed.
"Their actions are not wanted by the people of Carrickfergus or Larne." Mr Dickson added.
The Alliance MLA appealed to anybody with any information about the trouble to contact the police.