NI health care 'improving' new study suggests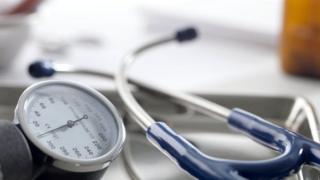 The Northern Ireland health minister has welcomed a new report that suggests the health system here has made significant improvements.
Edwin Poots was referring to the joint Health Foundation and Nuffield Trust study that looked at factors from waiting times to death rates.
Mr Poots said he felt "encouraged" that life expectancy was improving.
However although MRSA rates have fallen fastest in NI, they are still nearly three times higher than in England.
The health minister said waiting times had also become shorter however variations in the way that countries compiled data made it difficult to compare.
Professor Nicholas Mays from the London School of Hygiene and Tropical Medicine who led the team that compared the data, said: "There has been a significant improvement in performance, including in Northern Ireland.
"As regards hospital-acquired infections, the so-called MRSA bug, Northern Ireland in the mid 2000s had very high rates of infection causing death, those rates have come right down. That has been an important improvement in performance that Northern Ireland certainly shared in."
Mr Mays said it had not been possible to compare waiting list surgery data in the most recent years up to 2012, because of changes in definitions and when data was collected.
"It was not a criticism of Northern Ireland, it is just that things are done differently," he pointed out.
The health minister, Mr Poots, said his priority was to "step up" the improvements that were being seen.
Overall, the study found that the NHS in England was continuing to perform marginally better than the other UK countries, but the gap was narrowing.
The key findings for Northern Ireland were:
Male life expectancy in Northern Ireland is improving - in 2009, it was about 77 years old;
Northern Ireland had the lowest inpatient admissions per 1,000 population at about 162 - Scotland was top at about 218;
There was substantial improvement across nine key indicators on the quality of stroke care - up from 64% to 73%
Ambulance response times are up from 55% within eight minutes in 2004 to about 72% in 2012;
Waiting times for knee and hip replacements have fallen significantly. In terms of hip replacement surgery, average waiting times fell from nearly 300 days in 2005 - 2006 to less than 100 days in 2009 - 2010;
MRSA rates remain higher in Northern Ireland (10 male deaths per million in 2012) than other regions, but they have fallen significantly from 43 in 2008. The rates for women were lower.
Mr Poots said: "The report outlines how we have invested substantially more money in health and social care since the turn of the century and that is reflected in the increased levels of nurses and doctors in our hospitals.
"During the period assessed, it reflected noticeable improvements in terms of waiting times and ambulance response times while the number of inpatients admissions fell.
"However, there is still much work to do and while the report also reflects some of the challenges facing health and social care, it clearly demonstrates that we have been consistently improving our delivery and it is my priority to step up this improvement."
Overall, the research found all four countries were improving - mainly because of extra money and targets.
But it found some evidence that the rate of improvement was faster outside England.
No single country is consistently ahead of, or lagging behind, the others.
The report is based on in-depth analysis of about 20 indicators. Researchers analysed data going back up to 20 years on some measures.
MRSA death rates have fallen fastest in Northern Ireland in recent years, but they are still nearly three times higher than they are in England.
A spokeswoman for the UK Department of Health said the report reaffirmed the importance of protecting the NHS budget - a key Tory pledge during the last election campaign.