Parents jailed for neglect and cruelty towards children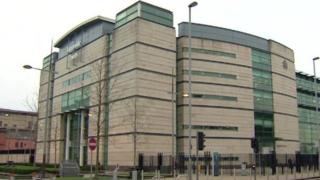 A prostitute who made some of her children watch as she had sex with clients has been sentenced to five years and eight months in prison.
The woman had pleaded guilty to cruelty, gross indecency and neglect.
Her four children suffered abuse, neglect and cruelty by their parents, two uncles and two other men dating back to the late 1970s.
The children's father admitted a total of 17 counts of wilful neglect and cruelty by wilful assault.
He was sentenced to four years in jail.
To protect the children, none of the family can be identified.
Addressing the parents in the Crown Court in Belfast on Friday, the judge, Mr Justice Horner, said neither of them had been prepared to take responsibility for their actions.
"Your chilly indifference to your children's welfare generally and your complicity in the sexually deviant behaviour you inflicted on [three of them] speaks of a heartless tormentor interested primarily in her own pleasures and enjoyment," he told the mother.
"However I accept that you are not a predatory paedophile. Not only are you pathetic, weak willed and inept, but you are also selfish and uncaring."
While a social worker at the time described her as "a warm and affectionate mother", the judge said that she did not know of her sexual delinquency and the pain and hurt she must have inflicted on her young children.
She was assessed by a probation officer as "cold and callous" after she sought to blame her husband for what happened.
The judge told the father that he was guilty of neglect by leaving his children with a woman who was a chronic alcoholic and was incapable of caring for their needs.
The judge referred to a number of savage beatings that the man had inflicted on his children for "trivialities" such as stroking one of his dogs' pups or getting sauce on a communion dress.
On occasions, one of the children was beaten so hard that she wet herself.
It was accepted, however, that the social worker did not see any signs of the children being physically abused.
Sentencing them, Mr Justice Horner said that historic sex abuse cases present courts with significant difficulty as the sentence must be based on the maximum sentence prescribed by legislation at the time the offence was committed.
In the period during which most of the offending took place in this case, the maximum sentence for child cruelty or indecent assault was two years imprisonment.
An uncle who admitted three counts of gross indecency and one count of indecent assault was sentenced to two years and nine months in jail.
Another uncle who admitted two counts of gross indecency, was sentenced to six months in prison suspended for two years.
Former police reservist Thomas Fitzpatrick, 53, formerly of Crewhill Gardens in Ardglass, County Down, but now with an address in Belfast, was convicted of indecent assault, gross indecency and common assault and was sentenced to 18 months in jail.
Patrick Kilmartin, 59, a baker from Newcastle, County Down, and originally from Bryansford Gardens but now at another address in the town, was convicted of indecent assault and was sentenced to 12 months imprisonment.