Gerry McGeough to appeal IRA murder bid conviction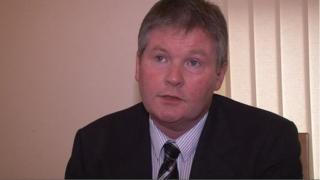 A former IRA man who was convicted of trying to murder a soldier more than 30 years ago has been granted leave to appeal to the UK's highest court.
Gerry McGeough was jailed three years ago for the attempted murder of off-duty UDR soldier, Sammy Brush.
Mr Brush, who is now a DUP councillor, was shot in an IRA gun attack in Aughnacloy, County Tyrone, in 1981.
McGeough was given a 20-year prison term but served less than two, under the terms of the Good Friday Agreement.
He was convicted in February 2011 and released in January 2013.
Sinn Féin pressure
McGeough is challenging his conviction and has been granted leave for a Supreme Court appeal.
The court will be asked to rule on whether admissions made by McGeough during a Swedish asylum application should have been relied upon during his 2011 trial.
The former IRA man is at the centre of separate claims that Downing Street asked police to release terror suspects in 2007, following pressure from Sinn Féin president Gerry Adams.
A retired senior detective, from the Police Service of Northern Ireland, has described the government's alleged intervention during McGeough's questioning as an attempt to pervert the course of justice.
McGeough was arrested in March 2007, 26 years after the murder attempt, while he was taking part in an election campaign as an independent republican candidate.
Speaking about the appeal, his solicitor said: "In addition to the new headline facts disclosed about Gerry McGeough's case, there are important aspects of European and domestic law which say his conviction is unsafe.
"Not least, the evidence adduced at Gerry McGeough's trial from an alleged asylum application made 30 years ago in Sweden.
"The receipt of such evidence at his trial was a breach of common law rules and Article 6 of the European Convention on Human Rights (right to a fair trial).
"EU law recognises the need for a common policy of protection for asylum seekers yet in Gerry McGeough's case this was repeatedly ignored."
On The Runs
McGeough's jailing prompted calls from some republicans, including a former member of the Irish government, for him to be set free, but generated fury from unionists and victims angered at the length of his sentence.
Those convicted of paramilitary offences that took place before the signing of the 1998 Good Friday Agreement can only serve two years of their sentences, as part of measures agreed for dealing with prisoners.
Retired PSNI detective Norman Baxter gave evidence about McGeough's arrest to the Northern Ireland Affairs Committee of MPs, which has begun an inquiry into the government's process for dealing with On The Runs (OTRs).
On The Runs is the term used to refer to people who are suspected of, but who have not been charged or convicted of paramilitary offences during the Troubles.
Claims dismissed
Controversy over the On The Runs scheme came to light in February, when the trial of John Downey, the man charged with carrying out the 1982 IRA Hyde Park bombing, was halted.
The trial judge said the case could not continue because Mr Downey had received a government letter, mistakenly saying he was not wanted for questioning by police.
It later emerged about 200 letters had been sent to republican paramilitary suspects.
Mr Baxter told the committee's inquiry that in 2007, the Sinn Féin president had put pressure on Downing Street to ask for the release of McGeough and another suspect.
However, Mr Adams dismissed the claim and former PSNI chief constable Sir Hugh Orde said no such phone call from Downing Street was received.
A Supreme Court spokesman said: "I can confirm that a panel of three Supreme Court justices has granted permission to appeal in this case, on the issue of whether admissions made in the course of an asylum application can be relied upon in criminal proceedings."