Police Federation anger at Omagh baton strike payout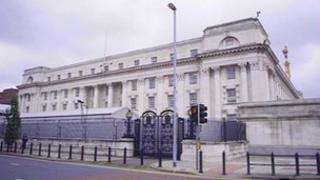 The Police Federation has criticised an award of £3,000 in damages to a woman who was struck by a police baton.
Nicola McAleer was part of a crowd that subjected officers to abuse described by a High Court judge as "vile".
The judge said while her alcohol-fuelled behaviour was unacceptable, the officers had used excessive force.
Police Federation chairman Terry Spence said the ruling would "make it even tougher for police officers to deal with hostile groups".
"Officers acted in a graduated, proportionate manner and showed remarkable restraint, and this staff association is clearly disappointed with this decision," he said.
"These officers are to be commended for their courage and commitment in what was obviously a very threatening situation."
The verdict came in an appeal against a County Court decision to dismiss the personal injury claim over the incident in Omagh, County Tyrone.
The judge had told the High Court in Belfast that the award would have been cut by up to a half because of Ms McAleer's behaviour if the law had allowed him.
Ms McAleer had been out drinking in the town with friends in September 2012 when she emerged from a pub where a crowd was watching a man she knew being arrested.
She alleged that a female officer hit her twice on the upper thigh, inflicting pain which lasted for weeks and affected her emotionally.
According to the policewoman who used the baton, a crowd of up to 20 people had surrounded four officers at the scene and were shouting abuse.
It was claimed Ms McAleer was among those acting aggressively.
The policewoman accepted she was the only officer to hit people that night but denied having lost control.
Delivering his verdict, the judge said: "I have no doubt that this was a highly-charged incident in which vile abuse was heaped on the police officers who were doing their duty to the best of their ability.
"They were subjected to gross and obvious hostility."
He found Ms McAleer's behaviour in showing aggression towards police was "unacceptable", but the policewoman had used excessive force by not effectively controlling her strikes and limiting them to the lower legs.