Dawn Purvis - the next stage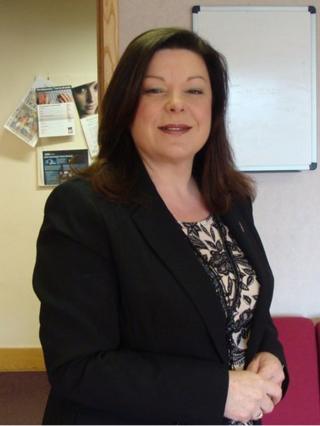 A former leader of a political party, who bowed out of politics in 2010, is about to embark on a brand new stage in her life - as a playwright.
Dawn Purvis has written a play that will be performed at the Grand Opera House in Belfast next month.
Her play is set during one of the most significant events during the Troubles - the Ulster Workers' Council Strike.
Ms Purvis said she never imagined she would write for the stage but described it as an "amazing experience".
"Obviously I'm a newbie to this, I've never written anything like this before. It is a massive leap but it's very, very exciting," she told the BBC's Good Morning Ulster programme.
The politician-turned-playwright joined the Progressive Unionist Party in 1994 and and took over as leader in 2007, following the death of her friend and mentor, David Ervine.
'Flesh and Blood'
The PUP has strong ties with working-class loyalist communities and also has links with the Ulster Volunteer Force (UVF), a paramilitary group.
Ms Purvis stepped down as leader in June 2010, following the murder of loyalist Bobby Moffett, which was blamed on members of the UVF.
She later stood as an independent, but lost her seat in the 2011 Northern Ireland Assembly elections.
Her stage production is part of a series called Flesh and Blood Women, which consists of three new plays by female writers in the city, all of which explore the experiences of women.
The works are also produced, directed and performed by women. Ms Purvis was asked to take part in the project by the Belfast playwright, Martin Lynch.
Her play tells the story of the Ulster Workers' Council Strike, from the viewpoint of an eight-year-old girl living in a loyalist, working-class area of Belfast at the time.
She said all of her characters are fictional but added that she had drawn on her own life experience of growing up in a loyalist area of the city.
'Darkly comic'
Ms Purvis would have been about the same age as her lead character when the strike crippled public services and power supplies across Northern Ireland for a fortnight in May 1974.
The unionist demonstration was called in protest to the Sunningdale Agreement, which had proposed giving the Republic of Ireland a say in the running of Northern Ireland.
The strike brought ordinary life for many people in the region to a standstill and eventually brought down the then power-sharing executive at Stormont.
Ms Purvis said that her play highlights the "poignant" and "darkly comic" experiences of working-class women living through the tense two weeks of a mass protest, as seen through the eyes of a child.
Rehearsals of her stage production began in Belfast a few days ago.
"Sitting in rehearsals for the first week, watching the actors and watching the director actually bring your writing to life is amazing," Ms Purvis said.
Surprise
When she exited stage left from politics in 2011, the former politician wrote on her Twitter profile that she was "looking forward to the next challenge".
And she found it, with her controversial decision to become director of Northern Ireland's first Marie Stopes Clinic, the first private clinic to offer abortions in the region.
Anti-abortion protesters held demonstrations outside the clinic when it opened in Belfast's Great Victoria Street in October 2012.
Her latest role, on a stage on the same street as the clinic, came as something of a surprise, even to the new playwright herself.
"We don't know, when you turn the page, what happens next," Ms Purvis said.
"If you had said to me a year ago, would I have written a play and would this now be performed in the Grand Opera House, I would have said you need to get your head looked at."
"I actually laughed at Martin Lynch when he first asked me to do it. So, we never know what's round the corner and I think when we're presented with opportunities we have to embrace those opportunities, because it's all part of life."
The series of plays, Flesh and Blood Women, is presented by Green Shoot Productions and runs from 7-24 May at the Grand Opera House.