GAA before government committee over Sky deal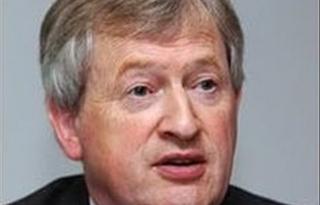 Finance was not a key priority for the GAA during negotiations with Sky Sports, an Irish government transport and communications committee has heard.
GAA director-general Páraic Duffy said the organisation would "only benefit marginally" from the deal.
Under the terms of the deal, Sky will have exclusive coverage of 14 hurling and football championship games.
Mr Duffy and GAA president Liam O'Neill had been invited to discuss the deal with the government joint committee.
The men took questions from TDs (Members of the Irish parliament) for almost two hours.
In answer to a question, Mr Duffy admitted that in 2010, the GAA had given a promise to keep its games on terrestrial television.
"But we could not deal with things this time around like we did in 2010, because Ireland is different," he said.
"There are far more people abroad than there were in 2010. The Gaelic games family abroad is far bigger than ever before and we could not afford to ignore those people."
Defending the deal, Mr Duffy said it had never been the case that all games would be broadcast live on television.
'Not tenable'
"We have always had to find a balance between live coverage and encouraging supporters to attend matches," he said.
He said emigration had meant increased international interest in hurling and football.
"It is no longer tenable for the GAA to see the audience for Gaelic games as Irish people living in Ireland," Mr Duffy said.
"At the top of the list, receiving a necessary priority recognised by all of us in Croke Park, was the need to make our games available to Irish people living abroad.
"In planning our negotiations of these new contracts, the GAA felt that it had an obligation to Irish people living abroad to respond to their appeals on this issue, if for no other reason than the fact that many of them, while living at home, had contributed to the GAA as members, and were now continuing that work in GAA clubs abroad."
Mr Duffy said some people had reacted cynically to news of the new contracts.
Exclusive rights
"But cynicism has always been the easy refuge of those who are afraid to engage in analysis and reasonable debate. The cynical claim would have it that the GAA went to Sky for the money," he said.
"Not only is this not true, but it also conveniently avoids noticing the recent announcement of a major investment by the GAA in redeveloping London's Ruislip grounds, a project also made possible by financial support from the Department of Foreign Affairs."
He said more than one million households on the island of Ireland already had access to Sky.
Under the new arrangements, Sky Sports will have exclusive island of Ireland rights to 14 championship games while along with RTÉ, they will also have live coverage of the All-Ireland hurling and football semi-finals and finals.
RTÉ will have 31 live games, which will include the All-Ireland senior finals and semi-finals in both codes.
Sky's 14 exclusive matches will consist of eight Saturday evening All-Ireland qualifiers, two All-Ireland football quarter-finals, plus four provincial championship games.
All Sky's 20 live games will be available to its subscribers in Ireland and Britain.
Under the new broadcasting deal, BBC Northern Ireland will continue to broadcast Ulster Championship matches, including the provincial football final, which are also being shown live on RTÉ.