Bank symbolised demise of Celtic Tiger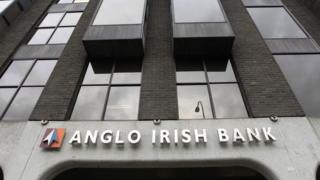 The Republic of Ireland's dazzling "Celtic Tiger" economy was once the envy of the world and Anglo Irish Bank was one of its shining lights.
In 2007 - at the peak of the boom - the banking consultancy Oliver Wyman rated Anglo as the best bank in the world, based on its performance over the previous five years.
Just two years later it had to be rescued by the Irish government, which ultimately cost Irish taxpayers around 30bn euros.
Today almost all traces of the bank are gone.
Liquidators are selling the last of its loan book and its former headquarters in central Dublin have become a Starbucks.
So how did the bank end up becoming a symbol for the decline of the Celtic Tiger?
'Overvalued property'
The basic problem was that it became hugely exposed to a small number of high-rolling borrowers who were investing almost entirely in an out-of-control property market.
The Irish economist David McWilliams described the bank in 2006 as being "simply a leveraged hedge fund betting its own and its clients' money on overvalued property".
With some prescience, he added: "Normally when the property market collapses, these type of outfits go bust."
Anglo's share price peaked in May 2007 and then began a steady downward path as turmoil grew across world financial markets.
Things became increasingly desperate after the rescue of the US investment bank Bear Stearns in March 2008.
That prompted a massive sell-off in Anglo shares as investors got out of the banks that looked vulnerable.
Brief respite
The 20% drop in Anglo's shares on 17 March 2008 became known as the "St Patrick's Day Massacre".
Behind the scenes the bank was effectively running out of money and the disintegrating property market meant its loans were going bad.
There was a brief respite in September when the Irish government announced it was guaranteeing the liabilities of all the banks.
However, the unravelling of Anglo burst into the open in December of that year when it emerged that the bank had been effectively hiding directors' loans in another bank.
That prompted the resignation of the the chairman and chief executive.
Anglo had been exposed as a basket case, putting it firmly on the path to nationalisation - which in itself played a significant part in the near bankruptcy of the country.
The conclusion of criminal proceedings relating to the Golden Circle loans do not mean we have heard the last of Anglo.
There is still a mountain of litigation, both criminal and civil, to come before the Irish courts.