Channing Day: Comber Primary School names assembly hall after former pupil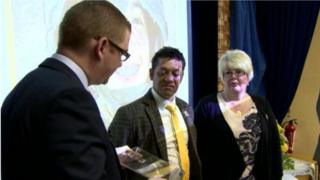 Comber Primary School has marked its 75th anniversary by officially naming its assembly hall after former pupil Corporal Channing Day who was killed in Afghanistan.
Cpl Day was shot while on patrol in Helmand province in October 2012.
Generations of past pupils attended a special event at the school on Tuesday evening.
Finance Minister Simon Hamilton, who also attended the school, handed over a plaque to the Day family.
It will be mounted in the hall.
Channing's mother, Rosemary Day, said her daughter would have been amused by what had happened.
"She always had a smile on her face, but she'd be having a right old giggle at the fact that where she played netball and sport in school has now been named after her," she said.
"She really would be having a giggle about it."
The 25-year-old's family attended a special service in her home town of Comber, County Down, last month.
A new memorial commemorating members of the armed forces killed since World War Two was unveiled in the town square.
Cpl Day's name was engraved on the monument, which was commissioned by Ards Borough Council.
She joined the Army in 2005 and was deployed to Afghanistan less than a month before she became the UK's third female soldier to be killed there since 2001.