Online jobs portal 'could save NI health service millions'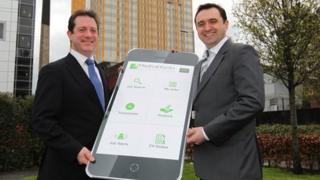 A new online portal could save the health service in Northern Ireland millions of pounds.
The portal allows locum doctors to directly register to work in hospitals in Northern Ireland.
The facility was devised by a Dublin company and reduces costs by cutting out recruitment agency fees.
In 2011 a Northern Ireland Audit Office report recommended that local health trusts find a more efficient way of hiring temporary medical staff.
Between 2008 and 2011 costs spiralled to more than £100m.
Auditors recommended that up to £5m of that could be saved annually if the system was managed better.
Now Dublin company Medical Banks has devised a new platform that allows doctors to register online with their details.
'Accessible'
The company's chief executive, Rod McGovern, said the system allowed doctors to register and apply for vacancies from their tablet devices and smartphones.
According to Mr McGovern, it is the first product of its kind in the medical recruitment field in the UK.
"This is an easy way for doctors to sign up for work. It's accessible not only for the doctors but also the hospitals who can respond directly to the doctor," he said.
Speaking to the BBC, Mr McGovern said the portal ensures that only suitably qualified and registered doctors can apply for positions that are posted by hospitals and clinics requiring GPs.
"Our portal really just cuts the cost of delivering the locum to the hospital.
"If you look at it from the doctor's point of view, it's just a case of choosing which conduit to use to register their details.
"By using the Medical Banks system, the hospital is going to save on commission charges.
"By cutting out expensive recruitment agencies this will deliver huge savings for healthcare budgets."
After the tendering process the Belfast Health and Social Care Trust selected the Dublin company as their main provider of locum doctors.
Dependency
In a statement the trust said: "Medical Banks is one of 25 agencies that provide locum cover for HSC within Northern Ireland when required and they provide an online portal for medical staff who wish to become part of their agency to register online."
Recently the health service was criticised for its high number of locum posts, including doctors and nurses.
In its review of the Royal Victoria Hospital's emergency department last year, the College of Emergency Medicine said there was a high turnover of temporary staff. It recommended that permanent posts would help stabilise the environment.
While there is a drive to appoint more permanent posts, the size of Northern Ireland's health service and the nature of its work ensures a dependency on temporary staff.
As well as allowing clinical staff to browse for vacancies the app issues invoices and manages payments automatically.
Its online storage technology also means that hospitals and GP clinics will no longer be required to store paper employment records as the information is available online.
Mr McGovern said: "Medical Banks allows managers to store and access all employment records online for the required time frame under legislation.
"As well as cost savings, this also improves the environmental cost and sustainability around the process. This app will change how medical recruitment works in Northern Ireland."
At present the facility applies only to doctors, but that could change in the future.