Derry Clipper Round the World festival 'to generate £5m'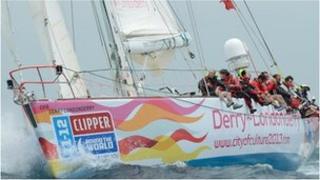 A festival set up to welcome the Clipper Round the World Yacht Race in June could generate £5m for the local economy, says Derry City Council.
Londonderry is the penultimate stopover on the world's longest ocean race, which left London in September.
Up to 100,000 people are expected in the city, and the programme of events to be staged in June has been launched.
There is to be a week-long maritime festival, with a race village, summer promenade and sea-faring activities.
There will also be outdoor concerts across the city.
The American rock band, The Beach Boys, has been confirmed as part of the programme.
The organisers say they are looking forward to coming back.
'Fantastic'
"The race, as always, will bring that buzz - the colour of the boats, hundreds of crew, all our supporters, family and friends, who just love the whole atmosphere here in Derry/Londonderry," Clipper Race's Jonathan Levy said.
"I think, together with that, the huge festival that's going on - the music, the Beach Boys, the cultural activities - there's just going to be things going on all the time.
"I'm sure it will attract visitors here and make a huge economic impact."
Sharon O'Connor, chief executive of Derry City Council, said: "This festival of events is going to generate millions.
"I'd like to think that it is going to generate £5m for the local economy. It's a realistic figure.
"We have called this year's festival Legenderry and it really is going to be fantastic."
The festival will run for eight days from 21 June.