Tommy Crossan: Dissident republican's killing condemned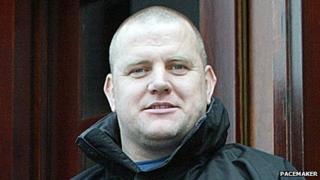 Northern Ireland's first and deputy first ministers have condemned the west Belfast killing of a prominent dissident republican.
Tommy Crossan, 43, was shot dead at a fuel depot off the Springfield Road.
Once a senior figure in the Continuity IRA, it is believed Mr Crossan had been expelled some years ago after falling out with other dissidents.
Detectives are examining the possibility that dissidents were involved in the shooting.
It happened just after 17:00 BST on Friday when the area was busy with people.
A red BMW car was found on fire nearby. It is thought three gunmen carried out the attack.
A local priest gave the last rites to Mr Crossan.
First Minister Peter Robinson warned that murder "can never be justified in any circumstances" as he urged those with information to come forward.
He said: "The small minority of people who want to continue terrorising the community need to understand that they will not be allowed to drag Northern Ireland back to the dark days of the past.
"They must be hunted down and brought to justice."
Deputy First Minister Martin McGuinness said those responsible for Mr Crossan's death "are criminals and will further no cause through this shooting."
He added: "Dialogue not destruction is the way forward and while there may be a small minority of people who are trying to promote division and heighten tensions, let's be very clear, they will fail.
'Brutal murder'
"The peace process is rock solid and all right thinking people across the community oppose and reject the actions of the people behind this murder."
Northern Ireland Secretary of State Theresa Villiers said she condemned "this brutal murder which has left a family bereaved".
David Ford, Northern Ireland's justice minister, said: "Those responsible for this cowardly act will be pursued by the authorities and I would urge anyone with information to pass it to the police."
Belfast's lord mayor, Máirtin Ó Muilleoir of Sinn Fein, tweeted: "Shame on those who bring death to Belfast streets at Eastertide. They represent no-one but themselves and have no place in our great city."