1,000 fish found dead in Oona river in County Tyrone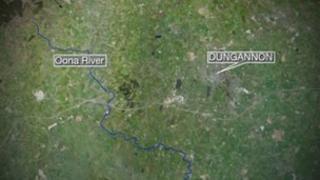 About 1,000 fish, mostly trout, have been found dead in the Oona River near Dungannon, County Tyrone.
The Northern Ireland Environment Agency (NIEA) said pollution in the water is being classified as "high severity".
Investigating officers have identified a potential source of the discharge. Samples have been taken by the NIEA.
"We got a call on Easter Sunday at around four o'clock from a member of public to say they saw dead fish," Brian Luke from the NIEA said.
"We sent our officers to investigate and trout of all ages and sizes were found.
"So far, we see the pollution coming from an agriculture source in the area.
"This is an important fishing area. It's a devastating blow for the area.
"Investigations with scientists will be carried out. Biologists will be on site this Wednesday or Thursday.
"The pollution will eventually be washed away naturally. Normally that happens better in wetter conditions."