Belfast disorder: Three men face charges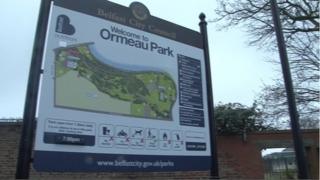 Three people have been charged in connection with disturbances in Belfast on Monday.
A 43-year-old man has been charged with disorderly behaviour, resisting police and behaviour likely to cause a breach of the peace.
The charges are in connection with a disturbance in Castlereagh Street.
A 17-year-old youth and a man, 20, have been charged with disorderly behaviour and possession of an offensive weapon, following disorder in Ormeau Park.
All three are due to appear in court in Belfast next month.
Two teenagers, aged 16 and 17, who were arrested in connection with the same incident, have been released pending a report to the Public Prosecution Service.
A 17-year-old youth has been released on bail pending further inquiries while two other 17-year-olds remain in police custody.