Department of Health to consult on breastfeeding in public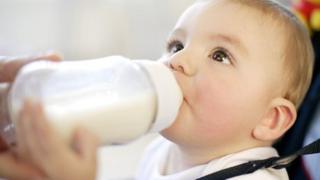 The Department of Health is planning to consult on new laws that would give mothers the right to breastfeed in public.
Scotland introduced similar legislation in 2005.
That made it an offence to stop nursing mothers from feeding their babies in places like cafes, bars, buses and shopping centres.
However, the earliest any new law could come into effect in Northern Ireland would be 2016.
Currently, breastfeeding mothers in NI are protected by sex discrimination laws that prohibit anyone from treating a woman unfavourably because she is breastfeeding.
However, Scottish law is tougher, making it an offence to deliberately prevent or stop a person from feeding milk to a child in their charge in a public place or licensed premises.
Businesses and employers can face a fine of up to £2,500 if they fail to comply.
Northern Ireland currently has the lowest breastfeeding rates in the UK.
Only 64% of mothers begin breastfeeding here, compared to 83% in England, 74% in Scotland and 71% in Wales.
Mothers in Northern Ireland, who choose to breastfeed, also do so for a shorter period than breastfeeding mothers elsewhere in the UK.
Twenty-six per cent of mothers who begin breastfeeding here stop doing so within a week.
Feminist campaigner Kellie Turtle welcomed the plans to introduce new legislation.
"This would bring us into line with the rest of the UK," she told the BBC's Good Morning Ulster.
"The law here isn't clear, women don't know what their rights are."
However, a former chair of the Northern Ireland Federation of Small Businesses, Bill Jeffrey, said new breastfeeding laws were not needed.
"Is there going to be another layer of petty bureaucracy?" he asked.
"If so, it is without any viable economic justification."
No date has yet been set for public consultation on any law change, which is part of a wider departmental strategy to increase breastfeeding rates in Northern Ireland.