Red Flag report: Fall in firms with 'critical problems'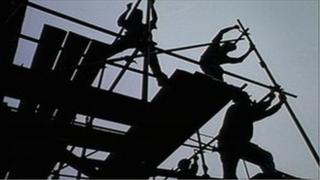 The number of NI companies in very serious financial difficulty fell in the first three months of the year, according to a new report.
The quarterly Red Flag report rated 37 companies as having "critical problems" in the January to March period.
That compared with 56 in the final three months of 2013.
The construction sector accounted for almost a third of businesses described as having critical problems during the quarter.
The report was compiled by corporate recovery consultants Begbies Traynor.
'Positive reports'
It defines critical problems as having three county court judgements (CCJs) totalling £5,000 or more, having a winding-up petition against them, or being in a Voluntary Arrangement.
Joan Houston, partner at Begbies Traynor's Northern Ireland office, said it had seen a more positive trend emerging in company finances.
"A number of positive reports have recently pointed to improving economic conditions in Northern Ireland," she said.
"The housing market has continued recovering in terms of prices and transaction volumes, and private sector companies have been reporting rising new orders and business output.
"With conditions improving, some of the pressures on companies inevitably ease."
The report also said that 3,712 Northern Ireland companies fell into Begbies Traynor's next category - those with less serious, but still significant financial problems, including minor CCJs or working capital difficulties.
That number was broadly unchanged from the final quarter of 2013.