Blackmailers 'claimed to be from UVF'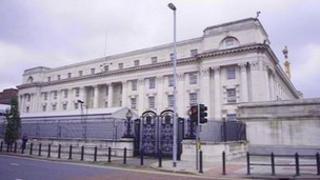 Blackmailers attempting to extort £6,000 from a businessman claimed they were from a loyalist paramilitary group, the High Court has been told.
Prosecutors said death threats and warnings bombs would be left at his home were phoned to the Samaritans.
Details emerged as bail was refused to one of two men accused of involvement.
William Robinson, 37, of Beechwood Drive, Balnamore, Ballymoney, faces charges of blackmail and intimidation on dates between November and January.
A prosecution lawyer said those targeting the County Antrim businessman had claimed to be members of the Ulster Volunteer Force.
He told the court that the accused was not believed to have any links to the paramilitary organisation and could have put his own safety at risk by allegedly using its name.
Instalment
It was claimed the businessman received text messages threatening two other people he knew.
A meeting was then arranged in the car park of a department store in Cloughmills, County Antrim, the court was told.
A co-accused, who was dressed in a camouflage jacket with a scarf covering his face, took £500 from the businessman as the first instalment of the £6,000 they were demanding, the court heard.
However, arrests were made after police became involved.
Opposing bail, the prosecution lawyer claimed there was a risk of interference with the course of justice if Mr Robinson was released.
"During the course of the offending, there was an express threat that there would be repercussions if police were contacted," he said.
A defence lawyer said Mr Robinson was a mechanic trading in vehicles who was only at the car park to look at two vans for sale.
He said the accused had no contact with the victim at that location.
Refusing bail, the judge said there was a risk of interference with witnesses.
He added: "There is a prima facie case of an insidious and devious attempt to blackmail and intimidate, a plan of action to completely and comprehensively threaten and damage the lives of three individuals."