Woman left with £200 bill to recover her stolen car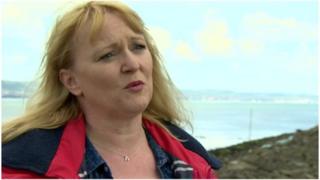 A woman from west Belfast has been left with a bill of more than £200 to get her car back after it was stolen and later found by the police.
Brenda Gough, who is a single mother, said she should not have to pay the bill.
She was told she would have to pay the cost of collecting and storing her car.
The PSNI said the bill had been issued by the company contracted to recover the vehicle, not them.
But Ms Gough said she did not think she should be left to pay the costs.
Ms Gough said the car was stolen while she and her family were in bed at their home in west Belfast on Saturday, two weeks ago
"Men broke into my home. They took the keys of my house and my car and they stole my vehicle. I was extremely upset. I was in the house with my three children. It is a traumatising experience," she said.
The car was recovered the following Wednesday but, although she had a spare key, the police said they needed to remove it for forensic reasons.
"A week later the garage wrote a letter to say I had to pay them £300 to get my car back. It is £150 to remove the vehicle and £20 a day storage," she said.
In the end, the garage said they would charge her £150. But she said she still felt a strong sense of injustice.
"I do have a decent job and it did not cause a lot of hardship. But £150 is a week's wages to some people," she said.
Ms Gough was so upset that she contacted Radio Ulster's The Nolan Show.
"There is something not right there. It is hard when the law tells you that not only are you the victim of crime, but you have to pay to get your property back," she said.
"They have literally taken the clothes off my children's back."
Ms Gough said she had a £500 excess on her insurance which meant it was cheaper to pay the bill herself, but she had to use savings to cover the cost.
In a statement, police said they were investigating the burglary.
"Police have the power of recovery of an abandoned or stolen vehicle under the Road Traffic Order 1997. Police carry this task out as a preventative measure to ensure that vehicles are not damaged or even re-stolen," the statement said.
"Legislation and case law state that the vehicle owner is responsible for the cost of this recovery. Costs may be recouped by the owner through their insurance company."
Police said the vehicle recovery scheme - GRG Public Resources Ltd from Stafford in England - was used by police throughout the UK and the PSNI did not bill or profit from anyone.