New Lagan bridge would offer 'safer route' into Belfast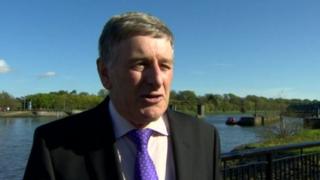 Up to £10m could be spent on building a cycling and pedestrian bridge over the River Lagan in Belfast.
A consultation exercise on the plan was carried out in January and three design options have been shortlisted.
Ciarán de Búrca, director of transport projects with the Department of Regional Development (DRD), said the bridge would offer cyclists and pedestrians a safer way into the city.
It is estimated that about 1,000 people would use the bridge every day.
"The project itself is very important for the locality," Mr de Búrca said.
"This is an area where we are now linking east and south Belfast very safely through the park, the new bridge, in through the gasworks and into the city centre.
"The bridge is about halfway between the Albertbridge Road and the Ormeau Road - two very heavily used roads for pedestrians and cyclists. This will offer them a much safer route into town."
The cost of the project will be between £5.5m and £10m.
The DRD will now carry out an economic appraisal of the scheme before asking the Stormont Executive for funds.