Four charged over County Antrim burglaries and thefts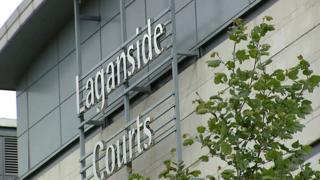 Four Belfast men have been remanded in custody charged over a number of burglaries in Belfast and parts of east Antrim on Friday morning.
In court were 31-year-old Kevin Brady, Sean McCann, 25, Joseph McDonnell, 26, and 22-year-old Martin Ferguson.
All four are all jointly charged with three burglaries at houses in Belfast, Newtownabbey and Jordanstown.
They allegedly stole car keys to a Seat Leon, a TV, bottles of alcohol and a Playstation 4 with assorted games.
While Mr Brady, from Marsden Terrace, is charged with stealing the Seat Leon and driving it dangerously on the Ballyrobin Road in Templepatrick, the other three are all charged with allowing themselves to be carried in a stolen car.
Mr Brady and Mr McDonnell, from Cedar Avenue, are also jointly charged with two aggravated burglaries at houses on the Carmavy Road and Lisnataylor Roads in Crumlin and Nutts Corner, when they were allegedly armed with knives and stole a Honda CRV jeep with legal documents, £300 in cash, a laptop and a handbag.
Mr Brady is further charged with driving the stolen jeep dangerously at Ballysillan Park in north Belfast and four counts of aggravated vehicle theft in relation to the stolen jeep causing damage to other cars and police vehicles.
A detective told Belfast Magistrates Court the incidents started just before 04:00 BST on Friday when the Seat Leon car was stolen from a house at Summerhill Court in Belfast.
An hour later, police responded to a report that a householder at Whitehouse Park in Newtownabbey had disturbed a burglar climbing through an open window.
The burglar ran off and was seen to drive away in a black Seat Leon car which had three other men in it.
Half an hour after that, the detective said, three would-be burglars fled in a similar car after they were disturbed at a house on Hawthorne Drive in Carrickfergus.
High-speed pursuit
The officer said that just after 06:00 BST police spotted the stolen car in north Belfast and began a high-speed pursuit on the motorway with various items, including bottles of alcohol, being thrown out of the speeding car.
That pursuit ended at Nutts Corner when the driver and front seat passenger, allegedly Mr Brady and Mr McDonnell, fled across fields on foot, climbing over wire fences to make their escape.
However, officers were able to arrest Mr Ferguson, of Henderson Avenue, and Mr McCann, from Cuchulainn House, who were in the back seat.
The stolen TV and games console were recovered from the car.
Later, residents at houses in the Nutts Corner area reported seeing two men in shorts with bleeding cuts to their legs acting suspiciously and a householder at the Carmavy Road, close to Belfast International Airport, told police he disturbed two burglars in his kitchen, but that they fled with knives.
A short time after that, two men with similar descriptions stole a Honda CRV jeep from a house on the Lisnataylor Road in Crumlin.
A police pursuit ended back in north Belfast when police uses two stinger devices to blow out the jeep's tyres and the vehicle ploughed into police vehicles and other cars causing damage.
Mr Brady and Mr McDonnell were arrested as they tried to flee the scene.
At about 07:45 BST, a family awoke to find that their home in Jordanstown had been broken into with the culprits having stolen a TV, Playstation, games, DVDs and bottles of alcohol, including champagne.
Only Mr Brady did not apply for bail and the detective told the court police were strongly objecting to his three alleged accomplices being released for fear that they would reoffend or, given that they knew their victims' addresses, would interfere with the investigation.
A judge refused the bail applications and remanded all four into custody to appear again on 15 May.