Assembly passes Praxis Hillsborough Castle motion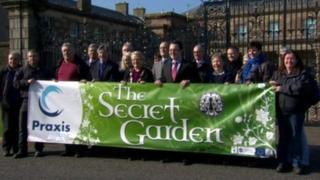 An assembly motion calling for the secretary of state to ensure a mental health charity could keep its café at Hillsborough Castle has been passed.
The management of the castle is being transferred to Historic Royal Palaces.
The Praxis charity has been told it must leave its café and market garden at the site.
A motion called on the Northern Ireland Office (NIO) to make the transfer conditional on the charity being able to stay.
However, the NIO said the charity had had enough time to make alternative arrangements.
Seven staff and 16 people with learning difficulties work at the centre.
In response to the motion, Secretary of State Theresa Villiers said she deeply appreciated the work that the charity had done for people with learning disabilities in the Hillsborough area, and the contribution it continued to make to the community in Northern Ireland.
"I understand that many people are concerned about the current situation," she said.
'Full potential'
"But it must be recognised that continuing the status quo at Hillsborough Castle was simply not an option.
"The NIO has neither the finance nor the professional expertise to manage the castle and enable its full potential to be realised."
Ms Villiers said part of the changes planned by Historic Royal Palaces included "substantial works" at the western end of the site, which would only be possible once Praxis vacated the walled garden.
"However, once the project is underway, Historic Royal Palaces have said they would be pleased to see Praxis's clients back at Hillsborough for work and participation opportunities - alongside other charities and community groups - and they have already opened discussions on possibilities with Praxis," Ms Villiers added.
The charity had spent £400,000 developing a garden and coffee shop, but the NIO has turned down a compensation request.
The NIO said the charity had benefited from extremely generous terms over several years at the site, including an annual rent of just £1.