Abattoir owner jailed for food safety offences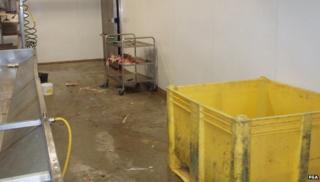 A former poultry slaughterhouse owner has been jailed for four months for food safety offences.
Nigel Wilson was convicted three years ago of nine breaches of food regulations at Upper Erne Lakes Poultry in Newtownbutler.
A warrant for his arrest was issued after he failed to appear in court, but he was convicted in his absence.
He appeared at Enniskillen Magistrates Court on Monday, having recently returned to NI from abroad.
Maggots
The Food Standards Agency in Northern Ireland (FSA), which brought the case, said it welcomed the sentencing for the serious breaches of regulations and hoped it "sends a strong message to those who try to operate food businesses outside the law".
"The investigation found decaying animal by-products infested with maggots, old and drying blood stains on the floor and no cleaning process in operation," said Michael Jackson, the FSA's head of food safety and operations.
"The business was operating without all the necessary approvals required under EU hygiene regulations, and turkeys had been processed without veterinary inspection as required by law."
He said Mr Wilson would not be allowed to be part of the management of any poultry processing business similar to the one he ran previously.
"We believe this further protects the public and the integrity of the food chain in Northern Ireland," he added.
Upper Erne Lakes Poultry is no longer trading.