Students concerned over paying bills for basic items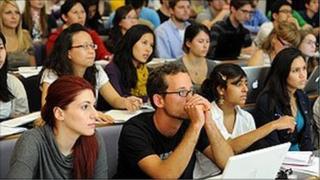 Most students in Northern Ireland worry about not being able to pay their bills for basics such as rent and heating, a survey has suggested.
More than 3,000 students responded to the online survey for the NUS-USI students' union.
The organisers said they were shocked by the responses, that suggest many students in Northern Ireland are finding it difficult to make ends meet.
The situation is worse for trainee nurses, even though they get bursaries.
The "pound in your pocket" survey, which heard from people studying at universities and colleges paints a picture of debt, long hours of part-time work and vulnerable young people struggling to stay solvent.
Thirty-seven per cent of respondents have considered dropping out and, of those, 57% said it was because of financial concerns.
Long hours
Forty-five per cent of those who responded to the survey said they struggled to concentrate on their studies without worrying about their finances.
The union said although nursing and midwifery students get grants, they have to work long hours on the wards and have little opportunity to earn extra money.
Seventy-seven per cent of them worry about not being able to pay their bills, the survey suggests.
Thom Hinds, a third year nursing student, said out of a bursary income of £500 a month he has to pay for rent, food and travel.
"It's extremely difficult for me and I am constantly having to go to my parents and grandparents, asking for money," he said.
Hannah McNamara studies at a further education college, but also works 23 hours a week in two jobs to pay for a car to get to college.
"It's not that we spend too much - I live at home but pay my mum for food," she said.
"The cost of travel every day all adds up, it's not just students spending on booze every weekend as most people think."
NUS-USI president Rebecca Hall said she had been shocked by the number of vulnerable people, with dependents and disabilities which mean their cost of living is higher.
The union has called on Stormont to increase financial support in the light of higher living costs.