PSNI must retain operational independence say sources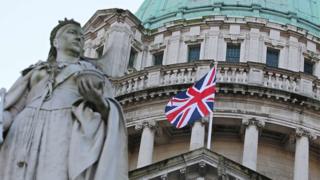 Police sources have insisted it is vital that the PSNI retains operational independence when deciding how to deal with illegal protests and other public order events.
A judge ruled on Monday that the police argument that they did not have the legal powers to stop the protests was wrong.
Police are due to appeal the ruling.
Lawyers for the PSNI are expected to argue that the determination could compromise their independence.
On Monday, Mr Justice Treacy upheld a legal challenge to police decisions by an east Belfast resident.
A resident of the nationalist Short Strand area won a judicial review over the PSNI's "failure" to provide assurances that it would prevent any future parades past his home.
He claimed this breached his privacy and family life entitlements.
Lawyers for the resident argued that no notification was given for any of the parades in December or January.
Police instead allowed un-notified processions to take place and failed to arrest those involved in organising and taking part, they claimed.
Shocked
The judge ruled that the PSNI wrongly facilitated illegal and sometimes violent loyalist flag protest marches.
The PSNI was stunned by the ruling.
Matt Baggott has already said he will appeal, but the appeal may not be heard until after this year's marching season.
In the meantime, the indications are that the police are unlikely to change the way they deal with protests.
PSNI sources have told the BBC it is unrealistic to expect them to forcibly intervene to stop any illegal protests or parades.
When the appeal is heard, lawyers for the police are expected to argue that the ruling could compromise their operational independence.
The issue will be discussed at a meeting of the policing board on Thursday.
The council's flag vote on 3 December 2012 was the catalyst for a long campaign of loyalist street protests, some of which resulted in violence.
More than 100 police officers were injured and nearly 700 people have been charged or reported in connection with flag protests in Northern Ireland since that date.
Nationalists and republicans had wanted the union flag completely removed from Belfast City Hall, while unionists wanted it to remain as a permanent fixture.
The designated days option was adopted by Belfast councillors after Sinn Féin and the SDLP voted to support an Alliance proposal to limit the number of days the flag would be displayed from the building.