Praxis: Fears for future of charity café at Hillsborough Castle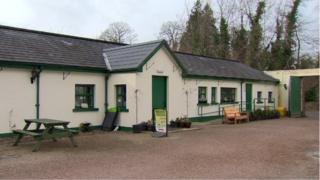 People with learning difficulties who work at a County Down charity café that is facing closure have spoken of their fears for their jobs and their future.
The mental health charity Praxis has been told it must leave its café and market garden at Hillsborough Castle.
The complex employs 16 trainees with learning difficulties and seven staff.
But the castle estate - the Queen's official Northern Ireland residence and home of the secretary of state - is undergoing a change of management.
Praxis was first granted the free use of a five-acre site at the castle almost 10 years ago and since then, the charity has spent about £400,000 making improvements to the site, developing the market garden and coffee shop.
However, Praxis has been informed it must vacate the premises before the management of the castle estate is transferred from the Northern Ireland Office to Historic Royal Palaces (HRP).
The charity has said it cannot afford to move to another site and has asked the government for financial help.
'Really upset'
One of the trainees who faces losing his job is Richard, who has been an employee since the complex opened and now works in the market garden three days a week.
"It's like a second home to me. It gives me a job and gets me out of the house," Richard told the BBC's Evening Extra programme.
"At least I'm not looking at the four walls. You're outdoors, you're in fresh air, you hear the birds singing and you're really relaxed. I really enjoy it."
Richard said he cuts the grass, weeds the garden and helps to plant fruit and vegetables that are then used to make soup and jam for the café's customers.
"It's very, very important to me, because if we did get chucked out it would really upset me, because I have been here so long." he added.
"I am worried, I'm getting a bit stressed out. What am I going to do if I have no job to go to? I'm just afraid of not getting a job."
The Secret Garden café project has also been a lifeline for volunteer Thomas Palmer, who suffered a brain hemorrhage in 2002.
"I came here through social welfare, as a volunteer, and initially I wasn't able to do very much, but as the years have progressed and my health has improved, I've been able to take on slightly more tasks.
"I find it very beneficial because I'm under no real pressure, and with brain injury that's crucial."
'Community'
Mr Palmer said that for him personally, and his family it "wouldn't be good at all" if the café had to close.
"It has given my wife a chance to go and do things on her own, without a husband who has had problems - not all the time, but certainly has had a problem from time to time - with mental health.
"All the guys that come here, although I didn't know any of them beforehand, they've all become almost like personal friends, and sort of a community, and that's going to be broken up.
"I would fear for the effect it is going to have on them down the line, because their lifestyle is being taken away from them."
Last month, Northern Ireland Secretary of State Theresa Villiers turned down the charity's request to be compensated for the money it spent on improvements.
Ms Villiers said Praxis "always knew the arrangement was not open-ended" and said the government had not agreed to pay compensation.
In a statement, the NIO said work on developing the site can only begin once Praxis vacates the walled garden.
It added the estate's new managers, Historic Royal Palaces, have said that once the project is under way they would be glad to see the charity's clients back at Hillsborough for "work and participation opportunities".
However, the NIO statement also said that continuing the status quo at the castle was simply not an option.