Stab attack man Peter McFadden may never be freed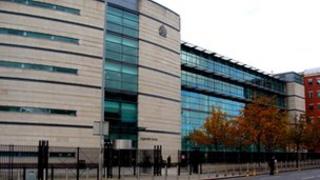 A man who tried to kill his girlfriend has been told he may never be released from prison.
Peter McFadden, 40, had been living at a hostel at University Street in south Belfast when he stabbed the woman, a fellow resident, several times.
Belfast Crown Court heard he later told police: "I should have finished her."
In imposing an indeterminate sentence, the judge said his case would be regularly reviewed and if he was deemed to be a danger, he may never be freed.
McFadden admitted charges of attempted murder and possessing both a folding knife and a baseball bat with intent to commit murder.
'Temperament for violence'
The judge told him that while she accepted he had a personality disorder and mental difficulties, she felt there was "a potential for further danger to the public" as there was "too great a risk this type of offence would occur again".
She said his case would first be reviewed by parole commissioners in five years' time.
The court heard that at the time of the incident in June 2013, McFadden was on licence after being released from prison for an earlier knife attack.
A prosecution lawyer said McFadden had gone to the woman's room with a baseball bat and struck her twice on the head.
He then stabbed the 36-year-old nine times on her neck, back and arm.
When she returned from hospital, she found that McFadden had sent her a text message that said: "I am going to finish you off."
A defence lawyer said McFadden suffered from a personality disorder and had abused drink and drugs, including heroin.
He said McFadden recognised that what he did was "absolutely horrendous" and he did not intend to kill her.
The judge said he had inflicted "significant" injuries to her neck, and the deepest cut near her spine could have left her paralysed.
The judge told McFadden he had a "temperament for violence".
"You attacked her in what can only be regarded as an unprovoked fashion with the baseball bat, then you used the knife on her body," she said.