Police in Belfast in 'significant' explosives find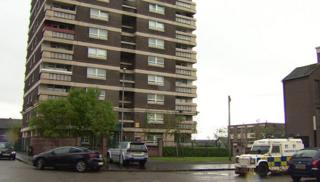 A substantial amount of explosives have been found by police investigating dissident republican activity in Northern Ireland.
The discovery was made during searches of a flat in the New Lodge area of north Belfast.
A 47-year-old man has been arrested.
A senior detective said: "It beggars belief that quantities of high explosives could be stored in a block of flats in which hundreds of people are living."
District Commander Chief Superintendent Nigel Grimshaw said police believed it was "a significant discovery".
"I welcome the fact that colleagues from Serious Crime Branch have taken this material out of circulation. It has been removed for detailed examination but we believe it to be high explosives."
A search operation at the Maeve House block of flats is continuing.