Cannabis plants worth £410K seized in Belfast say police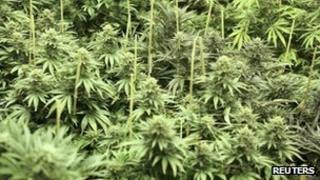 Cannabis plants worth £410,000 have been found during a series of searches in Belfast, police have said.
Planned searches were carried out at addresses in the north, south and east of the city on Thursday.
In the largest find, plants valued by police at more than £330,000 were discovered at Hughenden Avenue, off the Antrim Road.
A 38-year-old woman and two men aged 23 and 48 have been arrested on suspicion of drugs trafficking offences.
Cannabis valued at £60,000 was found at Greenville Road in the east of the city on Wednesday, and plants thought to be worth £20,000 were seized at Evelyn Avenue on Thursday.
Detective Inspector Andy Dunlop said: "I am satisfied that we have today dismantled another criminal gang suspected of involvement in organised crime of this nature."
He added: "There is an onus on landlords to check their property regularly.
"Receiving cash payments from tenants should raise suspicion.
"Such cash payments, together with closed curtains, lack of activity and only occasional visits to a house should raise suspicion and should be reported to police."