David Black murder: Man released on bail over trial delays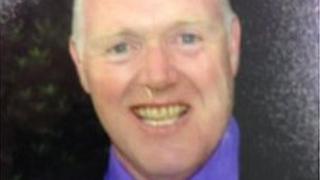 A man accused of supplying the car used in the murder of a prison officer is to be granted bail due to delays in the case, a High Court judge has ruled.
Mr Justice Weatherup held it to be unwarranted for Damien McLaughlin to face a wait of up to two years before any trial takes place.
The 37-year-old, of Kilmascally Road, Ardboe, County Tyrone, denies a charge of preparation of a terrorist act.
Mr Black was shot dead on the M1 in County Armagh in November 2012.
He was on his way to work at Maghaberry Prison when the attack happened.
The 52-year-old father of two was the first prison officer in Northern Ireland to be murdered in almost 20 years.
The prosecution alleges Mr McLaughlin transported a Toyota Camry across the Irish border on the eve of the attack.
The vehicle in which the killers were travelling was later found burnt out.
Mr McLaughlin's bid to be released on bail was opposed amid claims he may flee or re-offend if released.
Delays
But the judge granted the application after pointing out that he has already been in custody for almost a year and a half.
Noting the case seemed to have been held back due to proceedings against Sean McVeigh, a 33-year-old Lurgan man charged with the murder, he said: "The longer the delay the more the court is concerned with justifying continued detention."
With a preliminary enquiry hearing planned for June, Mr Justice Weatherup predicted Mr McLaughlin could be in custody for up to two years before any trial is held.
"It seems to me in the circumstances I have been given that is unwarranted," he said.
"Balancing all of the interests I have decided bail should be granted in this case."
Mr McLaughlin was ordered to report to police daily, observe a night-time curfew and banned from contacting Mr McVeigh.
His barrister failed to have an electronic tagging condition lifted, claiming it is normally associated with sexual offenders and may stigmatise his client.
But a prosecuting lawyer said Mr McVeigh's own bail had not been perfected because he had refused to wear a tag.
"There's more to it than meets the eye," she added.
Confirming that the monitoring device was required, the judge said: "It's not limited to sexual offences and I consider it necessary for the purposes of his bail."
Three people have been charged in connection with Mr Black's murder.
As well as Mr McLaughlin and Mr McVeigh, Fiona McFadden, from Killough Gardens, Lurgan, is accused of trying to pervert the course of justice.
She is accused of supplying a false alibi for a murder suspect on the day after Mr Black was killed.