Edwin Poots meets with charity over transparency law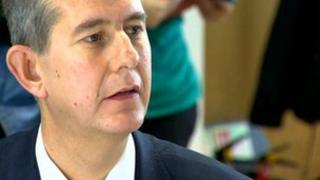 A UK charity for patient safety has described a meeting with Health Minister Edwin Poots on introducing new legislation as "extremely positive".
Action against Medical Accidents (AvMA) say a new law is needed to make health trusts more transparent.
In February, it was revealed that some families were not told that waiting times were a factor in the deaths of relatives at Royal Victoria Hospital.
A subsequent investigation prompted a call for the new law.
The charity have been campaigning for the introduction of a so-called duty of candour law across Britain.
Tuesday's meeting was the first between the charity and the health minister.
Peter Walsh, chief executive of AvMA, said Mr Poots had been "extremely sympathetic".
"I got the impression he has a genuine and deep felt desire to see openness and transparency, and recognises the injustices that has been highlighted in some high profile cases in the media," he said.
Investigation
In March, a Spotlight investigation revealed that waiting times at the emergency department of the Royal Victoria Hospital had been a contributing factor in the deaths of five patients.
It was also revealed that some families were not informed that their loved ones died partly as a result of not being treated quickly enough.
The revelations caused a review of serious adverse incidents across all of Northern Ireland's health trusts.
The subsequent investigation recommended the introduction of a duty of candour law in Northern Ireland.
Last year, UK Health Minister Jeremy Hunt said he would enforce a duty of candour on NHS staff in England from 2014.