PSNI crime statistics: Racist incidents rise 30% in 2013/14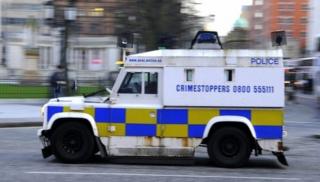 Racist incidents reported to police in Northern Ireland increased by almost a third in the past year, according to the PSNI's annual crime statistics.
There were 982 racist incidents in the 2013/14 financial year, an increase of 30.9%. However, sectarian incidents decreased by 6.4% to 1,284.
The overall number of crimes rose by 2.3% to 102,746 incidents.
Chief Constable Matt Baggott said it was "worth noting that this follows four years of decreasing crime levels".
Police said it was the second lowest annual level recorded in Northern Ireland since 1998/99 when the Home Office introduced new rules for counting crimes.
Crime increased in seven of the 10 main crime classifications:
Offences of violence against the person increased by 6.9%
Sexual offences increased by 15.6%
Theft offences including burglary were up by 1.2%
Drug offences were up by 8.1%
Possession of weapons offences were up by 11.7%
Public order offences were up by 1.3%
"Miscellaneous crimes against society" were up by 10.2%.
The other three main classifications saw fewer crimes recorded:
Robberies decreased by 5.5%
Criminal damage offences were down by 5.1%
Offences of "other fraud" decreased by 0.1%.
The overall crime outcome rate was 29.5%, a fall of 2.3%.
Crime outcomes include charges and summonses, cautions, discretionary disposals, penalty notices for disorder, offences taken into consideration and indictable only offences where no action was taken against the offender (either because they died before proceedings or the PPS did not prosecute).
Across the eight policing districts, five recorded increased levels of crime - B district, which covers south and east Belfast, showed the largest rise of 8.8%.
Domestic abuse
Domestic abuse incidents are defined as "any incident of threatening behaviour, violence or abuse (psychological, physical, verbal, sexual, financial or emotional) by one family member against another, or adults who are or who have been intimate partners, regardless of gender, and whether a crime has occurred or not".
There were 27,628 such incidents; an increase of 1.6%
The number of crimes with a domestic abuse motivation increased by 14% to 12,720
Police said the "associated crime outcome rate fell by five percentage points from 36.7% in 2012/13 to 31.7% in 2013/14"
"Our approach to dealing with domestic abuse cases is very much driven by our partnerships and the commitment we have to victims is absolute," a police spokesperson said.
"Those victims who do come forward show extreme bravery and it is vital that the police service is able to support them throughout the criminal justice process."
Hate crimes
Hate incidents are defined as "any incident, which may or may not constitute a criminal offence, which is perceived by the victim or any other person, as being motivated by prejudice or hate".
In 2013/14, the PSNI recorded 1,284 sectarian incidents, 982 racist incidents, 280 homophobic incidents, 107 disability incidents, 24 faith/religion incidents and 23 incidents targeting transgendered people
There were increases in all but one of the six hate incident types
Within this category, the number of crimes with a hate motivation in 2013/14 also increased within five of the six hate crime types.
Racist crimes were up by 221 (47.0%), sectarian crimes were up by 72 (8.1%), disability crimes were up by 35 (100.0%) and homophobic crimes were up by 30 (20.1%)
There were also two more transphobic crimes in 2013/14 than in the previous year, while faith/religion-motivated crimes decreased from 14 to 13
The crime outcome rate was 17.3% for homophobic crimes, 17.2% for racist crimes and 15.4% for sectarian crimes, all of which were decreases on the comparable rate for the previous year.
Anti-social behaviour and drugs
Police said there were 60,706 incidents of anti-social behaviour, a decrease of 7.1% and the lowest level recorded since the measure was introduced in 2006.
The targeting of street-level drug dealing was a priority, police said, and the number of drug seizures increased by 7.8% to 4,474. The majority of these incidents were seizures of cannabis.
Police said the increased level of drug seizures and arrests was probably due to Operation Torus, a "high profile operation specifically targeted at street-level drug dealing" last autumn and winter.
Security situation
There was one security-related death, one less than in the previous year
The number of bombing incidents increased by 25 to 69, but the number of shooting incidents decreased from 64 to 54
There were 28 paramilitary-style shootings, an increase of one - republicans were deemed responsible for 19 while the other nine were blamed on loyalists
The number of people injured in paramilitary-style assaults also increased from 36 to 42 - loyalists were deemed responsible for 37 of these while the other five were blamed on republicans
There were 168 arrests under Section 41 of the Terrorism Act, an increase of 11 - however, the number of people charged under the act decreased from 50 to 32.
Policing Board member, and Ulster Unionist MLA, Ross Hussey said: "The PSNI deserve huge credit and our continuing support for doing what can be a difficult job in very challenging circumstances.
"One issue which causes me particular concern is the fact that as Northern Ireland's population becomes increasingly multi-cultural, a minority of people continue to be motivated by bigotry and prejudice. This is deeply disappointing.
"The increase of over 30% in racist attacks last year does a huge dishonour to the vast majority of people in Northern Ireland who welcome diversity and are genuinely good neighbours."