Ballyshannon: Thousands of eels died in 'overnight surge'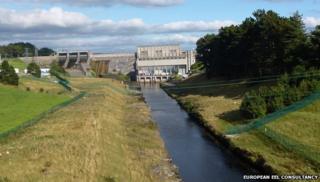 An eel kill at a hydro-electric dam in County Donegal was caused by a huge overnight surge of elvers into one trap, a power company has said.
More than 300,000 eels died in the trap that was supposed to help them migrate into Lough Erne in County Fermanagh.
After a 4,000 mile journey across the Atlantic, the eels are confronted by the power station at Cathaleen's Fall.
There are two traps at the dam bottom where elvers are collected and transported to Lough Erne.
Noel Greally, fisheries manager at the Electricity Supply Board (ESB), said the traps were checked every morning, and last month they discovered the large run of elvers.
"One night over Easter, there was a large surge of elvers into one trap overnight," he said.
"We estimate there was approximately 150kgs of elvers - which represents 90% of the entire elver run last year - entered in one night and into one trap.
"These were not detected until the following morning when the trap was checked and unfortunately and regrettably 112 kg of elvers were lost at that stage."
He said the traps had been upgraded and inspected in March, and had been operational since April after receiving approval from the Department of Culture, Arts and Leisure (DCAL) and Inland Fisheries Ireland (IFI).
He said that since Easter 480 kg of live, healthy elvers have been collected and transported north and released into the Erne system.
Conservation
"This represents a significant increase on previous catches over the last couple of years and the trapping operation at the station will continue until September," he said.
"This year looks likely to be a fantastic year for elver recruitment into the Erne system."
Mr Greally said the ESB is committed to eel conservation.
One eel expert said because elvers run at night, the traps should be checked at night.
Dr William O'Connor, from the European Eel Consultancy, accused ESB of taking a "far too casual approach to a critically endangered species".
"They should have been on alert anyway," he said.
"Everybody who's involved with eels across Europe knew this was a record year for eels, it was no surprise that Ballyshannon experienced a record run of elvers like that."