NI21 changes from unionist party to 'other' assembly designation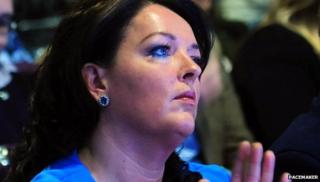 NI21 has announced it will change its designation at the Northern Ireland Assembly from unionist to 'other'.
The party's executive took the decision ahead of Thursday's European and local government elections.
NI21 was set up by MLAs Basil McCrea and John McCallister, after they quit the Ulster Unionist Party in 2013.
European election candidate Tina McKenzie said it was a response to the message they had been receiving from people while canvassing.
She said it would also clear up any confusion about the party's position.
"What has changed is that it is a clear message to the people of Northern Ireland that NI21 is a cross-community party," she said.
"We are a party that, in the future, will represent all people as we have done in the past but if there was any lack of clarity on that, tonight, we have cleared that up."
Ms McKenzie said the party advocated that Northern Ireland was best placed within the United Kingdom, but was uncomfortable with labels.
"We want to create fresh politics, normal politics, talking about the issues. We just want to take these labels off and say we are more comfortable without them," she said.