Creative industries sign-up for online 'edge'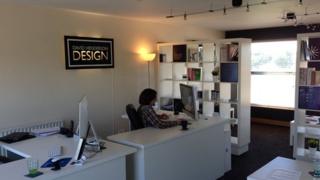 Entrepreneurs and freelancers in Northern Ireland's creative industries sector have been signing up to My Creative Edge, a website that showcases their work.
Funded by the European Union, My Creative Edge aims to increase economic activity at the crossroads of arts, business and technology.
The Creative Edge project in Northern Ireland is run by Craigavon Borough Council's SEED organisation.
One business owner, David Henderson, believes the website helps his business.
David Henderson Design is an award-winning web design company based in Kilkeel, County Down.
The company was set up in 2008 and has mainly worked with small to medium-sized businesses, providing logo design, web design, animation and 3D graphics.
He said: "Nowadays it's all about respondent design, so it's important that a website looks well on smart phones, tablets, iPads and desktop browsers.
"A website needs to re-size for all the different types of technology it's used on."
'Global audience'
David's customers include companies like Denman, who make hairbrushes, as well as Glasgow City Mission and a Boston-based marketing agency.
Mr Henderson says he gets business through word of mouth, referrals, and people searching online.
"We were supported by local businesses, and then people started finding our website on the internet," he said.
"It helps us to reach clients from all over the globe. If we were just relying on clients from Northern Ireland, we wouldn't be as busy."
In nearby Cranfield, County Down, Deborah O'Hare runs a cupcake business.
Last September, her daughter suggested she make cakes for more people than just her family, and put her on Facebook.
Deborah set up a business, Made With Love 4 U, and it's booming, thanks to the internet.
"We started doing wedding fairs at the beginning of the year, and the response from young couples getting married was phenomenal," she said.
"We actually have some bookings right up to 2016. We've had excellent feedback.
"Sometimes I have to stop and pinch myself to see if this is real, because it has moved so fast in such a short space of time."
Ideas
Through Facebook, Deborah saw the benefits of getting a website and signed up to My Creative Edge.
"It was getting to that audience you want to get to," she added.
"Everybody is technology-minded these days and it is the way to go if you want to promote yourself and for advertising purposes."
So where does Deborah get ideas for her cakes?
"I get them from the customers. Some of them are phenomenal, with great imaginations," she says.
"We try to meet in the middle. Some ideas can be physically impossible to do with icing.
"One of the first things I was asked to do was a Mr Bean cake, where he was sitting on a suitcase. It was quite fun to do. The weirder the better, because it challenges me."
And why is the world suddenly obsessed with cupcakes?
Deborah says: "It's our friends in America, obviously, and the world's such a small place nowadays - at the push of a button, you can see what someone's doing on the other side of the world. You learn so much about other countries."