Vote 2014: Northern Ireland electorate goes to the polls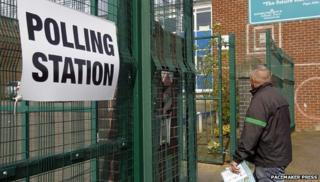 Voting is continuing at Northern Ireland polling stations in the local government and European elections.
Ten candidates are in the race for Northern Ireland's three seats in the European parliament.
More than 900 people are competing to fill 462 council seats in the 11 new district councils.
Polling stations opened at 07:00 BST and will close at 22:00 BST. The votes in the council election will be counted and declared on Friday and Saturday.
The results in the European election will not be known until all 28 countries have voted and a central count is completed on Monday.
BBC Northern Ireland political editor Mark Devenport said: "Because the new councils have to decide their headquarters and governing arrangements, they will meet for the next 10 months in shadow form, before taking power from the existing local councils in April next year. "
Voters will be given a white ballot paper for the European contest and a yellow paper for their local council.
Warning
The voting system is proportional representation meaning ballot papers should be marked 1,2,3 and so on for as few or as many candidates as you like.
Seamus Magee, from the Electoral Commission, warned voters not to take any photographs, including selfies, when they are in the polling booths.
"There is a penalty for breaching the secrecy of the ballot and that can be a fine of up to £5,000," he said.
"The whole idea is the secrecy of the ballot, so you don't want people taking photographs which in any way would compromise who somebody has voted for.
"So, I think the advice really is to refrain from taking photographs in polling stations."
All voters will be asked for photographic identification such as a passport, driving licence, Translink smartpass or electoral identity card.