Coastguard warning about rip-tides after death along north coast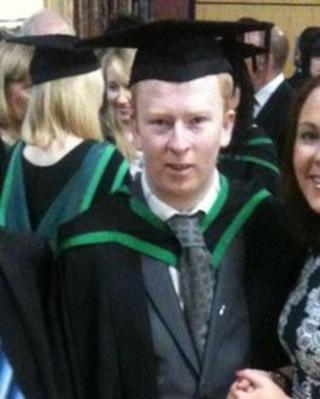 Coastguards have warned about the danger of rip-tides along the north coast of Northern Ireland after the death of a bodyboarder last week.
Stephen Pentony, 25, from Newry, County Down, died after he got into difficulty off Portrush, County Antrim.
A man was also treated in hospital after a separate incident at Benone beach, on Friday involving a jet ski.
"People need to watch out for these tides," said Chris Little from Coleraine coastguard station.
"A full scale operation was put in place when we knew Mr Pentony was in difficulty.
'Frightening'
"He was located very quickly in the West Bay and was treated by paramedics who were standing by.
"He was then transferred to hospital and it led to the outcome we really didn't want.
"The alarm was raised by someone on shore. The 999 system was called and then we were informed.
"These waters are known for rip-currents. There are warning signs about. They are caused by the shape of the bay and sandbanks.
"These currents along the north coast can be a very frightening experience.
"Two surfers were also caught up in a similar situation last week. They were very lucky to get away from the current.
"I ask people to think twice about what they are doing and they are appropriately dressed when going into the water."