Ballee High School, Ballymena, could close by August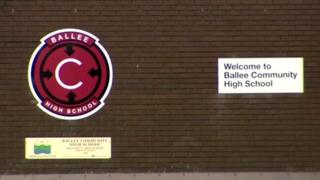 The chairman of a Ballymena school has said they are very disappointed at news it is due to close as early as August.
Ballee Community High school has about 130 pupils, many of them sitting their GCSEs at the moment.
The school is offering counselling to pupils upset by the news.
The chair of the board of governors said the school had proposed an alternative plan, but it had been rejected by the education board.
Alistair McComb said it would have seen a federation of post-primary schools in the Ballymena area.
He said it was a very bad time for pupils sitting exams to find out their school was closing.
Those who are in the early stage of their GCSEs do not know where they will go next, he added.