Student Patryk Sojka to work in Gordon Ramsay kitchens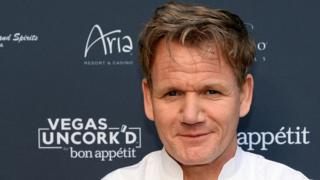 A student chef from Newtownabbey is being offered a taste of the world of Michelin-starred chef Gordon Ramsay.
Patryk Sojka, 19, a student at Belfast Metropolitan College, is the first winner of the Tesco home grown award to develop local talent.
He will be spending time in three of Gordon Ramsay's London restaurants as well as in the kitchen of Tom Kerridge's Hand in Flowers in Marlow.
Ramsay has a reputation for being fiery but Mr Sojka welcomes the challenge.
"I am very excited about the chance to learn with world class chefs - I'm up for the challenge," he said.
'Absorb'
"At the minute, I've been doing a lot of fine dining food in the college and this is just an amazing opportunity to learn.
"Once I get to London, I'll get trained up in some of the basics and then I want to absorb all the advice they can give me.
"My friends have been very proud of me and they're supporting me though it all and they're really excited."
In mid-June, Mr Sojka will spend a week in three of Gordon Ramsay's finest London restaurants, Maze in Mayfair, London House in Battersea and Restaurant Gordon Ramsay in Chelsea, which has three Michelin stars.
At the end of next month, the Glengormley student will be spending time in the kitchen of Tom Kerridge's Hand in Flowers which has two Michelin stars.