Asylum: Rise in applications made in Northern Ireland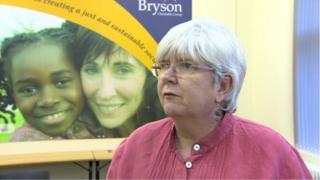 The number of people applying for asylum in Northern Ireland over the last few years has increased, according to figures obtained by the BBC.
The last full year for which statistics are available was 2012 and in each of the four years until that date, there was an increase in applications.
Applications increased from 130 in 2009 to 240 in 2012.
However, asylum applications in NI represented 1% or less of the total number made in the UK as a whole.
The Home Office does not routinely publish specific figures for asylum applications in Northern Ireland.
However, the BBC has obtained the figures following a request under the Freedom of Information Act.
In 2009, 130 people claimed asylum, and 20 had asylum granted.
In 2010, there were 150 applications, of which 20 were successful.
In 2011, 200 people applied, with 60 being granted asylum.
In 2012, 240 people applied for asylum and about a third were successful.
But the figures remain small compared with the rest of the UK.
According to the Refugee Council, there were 21,785 asylum applications in the UK in 2012 - meaning claims in Northern Ireland were just over 1% of the total.
Jo Marley from Bryson Intercultural, the charity which helps asylum seekers when they first arrive in NI, said: "Numbers go up directly in correspondence to crisis in the international scene.
"So at the moment, you would expect to see people coming from the likes of Sudan, Somalia and Syria among others."
She added that an increase in claims did not necessarily mean there would be an increase in the number of refugees in Northern Ireland, as some would choose to leave for other parts of the UK.
Under the terms of an international treaty from 1951, member states of the United Nations must take in people who have a "well-founded fear of persecution" in their home country.
Asylum-seekers are assessed by immigration officials to determine whether they meet the criteria.
If their application is successful, they are granted "refugee" status and are given the right to work and live in the UK.
Not all unsuccessful applicants are deported.
Applications
The Home Office figures show there are 270 people living in Northern Ireland whose claims have been rejected, but for a variety of reasons, have been allowed to stay.
They may plan to appeal, or it may be too dangerous for them to return to their home country.
People in this situation receive a lower level of state support than those whose applications are still being considered.
They get some help with accommodation and £35 per week on a pre-paid card for food and other essential items, which can only be spent at certain retailers.
But they tend to rely on help from charities and churches.
Adam, from Sudan, has been in Northern Ireland since 2007, but his asylum claim has been rejected.
He has been homeless for four years, and said he feels "sick and frustrated".
He said he has not been able to afford new clothes for three years, and gets his food from the weekly food bank at the Northern Ireland Council for Refugees and Asylum Seekers (NICRAS).
Adam said his life is "very hard", but he still wants to settle in Northern Ireland, saying its people have been very generous and friendly towards him.
In spite of the recent headlines about racial hate crime, many asylum seekers and refugees have nothing but positive things to say about people in Northern Ireland.
The 270 people who have not been granted asylum but not sent home either are often at the extreme end of the poverty spectrum.