'Major' MTV concert for Ebrington barracks in Derry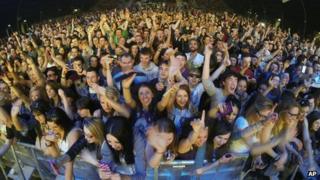 A 'major' concert by MTV will take place at the Ebrington barracks site in Londonderry in September.
Derry City Council is understood to have made a "significant investment" to bring the event to the city.
No acts have yet been confirmed and the exact dates are still to be finalised.
An official announcement of the event is expected later on Tuesday. Last year Derry played host to the Radio 1 Big Weekend.
It featured acts like Calvin Harris, Biffy Clyro, Bruno Mars and Rita Ora performed as part of Derry's year as the UK City of Culture.
'Huge deal'
It is likely that the event will be part of the MTV Crashes series and the concert will be broadcast on the station.
Councillor Elisha McCallion, chair of the development committee at Derry City Council, has said the event was a "huge deal" for the city.
Ms McCallion said that the "huge success" of the Radio 1 Big Weekend had showcased Ebrington Square to other promoters.
"Following the Radio 1 Big Weekend approaches were made by MTV to the council to see if there was a possibility about coming to the city," she said.
"Since then there have been lots of discussions and now I am pleased to say that contracts have been signed and there will be a two-day event in September."
Ms McCallion said the council has committed "significant" amounts of money to legacy as a result of the City of Culture year.
"As part of the legacy programme we said we would try to keep the city known as a city that promotes music," she said.
"It's excellent that we are now at the stage where a major promoter like MTV has bought into a major concert in the city."
The council also hopes that local acts will be given the opportunity to perform.
The concert will not be the first time MTV has staged events in Northern Ireland.
The MTV European Music Awards were held in Belfast in 2011 and attracted acts like Lady Gaga and Beyonce.
They also staged a follow-up concert in the Titanic Slipways that was headlined by Olly Murs.
Confirmation of acts and information about tickets is expected to be released in the coming days.